Environmental economist, former banker and founder – CEO, GIST Advisory.
Founder-CEO of GIST Advisory, a consulting collaborative that evaluates corporate and national performance, including externalities. Awarded Yale University's 2011-12 McCluskey Fellowship, Pavan wrote Corporation 2020 while teaching at Yale. This book prioritises and describes four critical reforms to transform today's business for tomorrow's world. Earlier, Pavan was Study Leader for "TEEB" (The Economics of Ecosystems and Biodiversity), a global study of the economic benefits of ecosystems and the social and economic consequences of their loss. Concurrently, he also led UNEP's 'Green Economy Initiative' and its landmark report "Towards a Green Economy".
A career banker, Pavan's latest banking assignment (as Managing Director at Deutsche Bank) was to set up a leading front-office offshoring arm for their Global Markets division. Pavan won several awards for his work on bringing policy recognition for valuing nature's services, including Sustainable Development.
Follow Pavan Sukhdev on Twitter and Facebook
Talks, conversations and panels
Podcast | Pavan Sukhdev
14 Oct 2015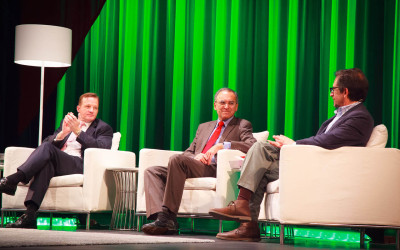 Podcast | Andrew Revkin, Pavan Sukhdev, Andrew MacLeod, Madonna King
13 Oct 2015