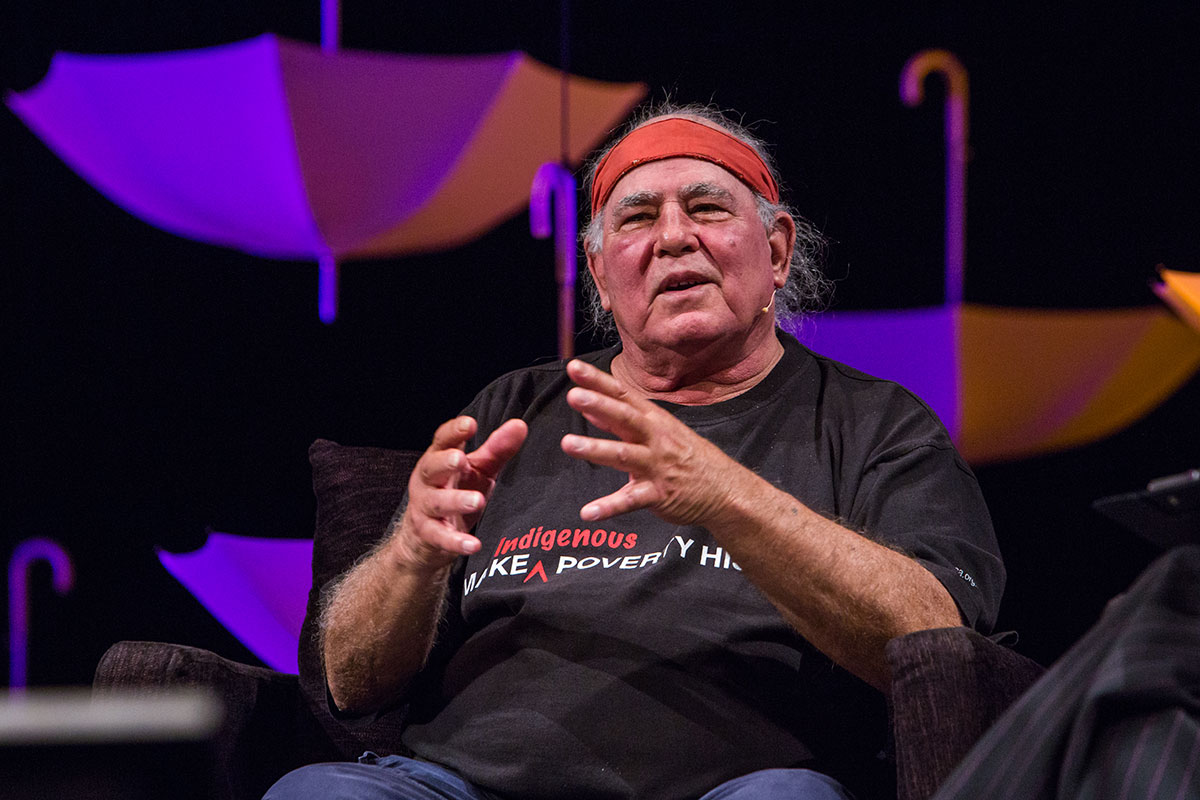 I first heard his music 20 years ago, and was drawn straight away to his blend of politics and prayer, poetry, anger and pride. His body of work is one of our great cultural treasures.

— Paul Kelly
Born in 1946, Kev grew up on a 'hard tack goanna block' in the Darling Downs area of South Eastern Queensland with his family: drovers and stockmen who lived largely off the land, growing vegetables near the house and hunting. From the age of four, he and his brother interacted and worked with the stockmen, drovers, fencers, ring-barkers, shearers and the backcountry itinerant workers where he lived. It was around the stock and droving campfires that he learned his love for storytelling and music.
When he was 10, Kev and his brother were sent to a 'Christian' school. Kev left school at sixteen years of age without completing his senior school years and returned to rural work.
Kev was 33 before he returned to formal education, enrolling with the Darling Downs Institute of Advanced Education to study geography, history and music, and progressing through to PhD studies at Queensland University. Kev had never been into a library before and had never read a book so he asked his lecturers whether he could bring in his guitar to assist him and presented his first tutorial orally.
At University, Kev also took the opportunity to acquaint himself with experimental music pioneers John Cage and Karlheinz Stockhausen. His music would reflect his own Murri culture, paralleling the social history song traditions of Woody Guthrie and Huddie Ledbetter. Kev found here a platform to express his cultural perspective and his musical imagination, as well as a poetic lyrical passion.
In his 40s, he released his first album: Pillars Of Society (1987). Rolling Stone magazine described the album as "The best album ever released by an Aboriginal musician and arguably the best protest album ever made in Australia".  Four studio albums followed: Eulogy (For A Black Person) (1990), Bloodlines (1993), Images And Illusions (1995) and Mirrors (2003).
A feature artist at many major Australian and international cultural festivals, Kev is equally at home on world stages as he is with youth and prison inmates, or at the many song writing and recording workshops he has shared with communities in Western NSW, NT and QLD.
In 2006, his great friend and long time fan Paul Kelly, harbouring ambitions for a tribute album to Kev, drew together Australia's finest and most diverse artists, inviting them to record their favourite Kev songs.  Cannot Buy My Soul was released in 2007, featuring performances from Paul Kelly, Missy Higgins, John Butler, Dan Sultan, Clare Bowditch and many more, to resounding acclaim. Kev's own renditions of the same songs were released on a second disc, allowing a whole new audience to hear his songs for the first time.
In 2008 many of the artists who featured on Cannot Buy My Soul came together at the State Theatre in Sydney to perform the songs they had recorded. The show was such a resounding success that the family came together again in Brisbane for a sold-out concert (selling over 8,000 tickets) at the River Stage for the Queensland Music Festival.
Kev has received a host of awards in recent years, both by his music industry peers and the wider community.  He was a recipient of a Queensland Great Award, awarded an Honorary Doctorate by the University of Southern Queensland in 2008 and inducted into the ARIA Hall of Fame in 2009. In 2013, Kev was awarded the prestigious Australia Council Don Banks Music Award.
In 2014, Kev was asked to perform at the funeral of former Australian Prime Minister, Gough Whitlam, whose return of native title to the Gurindju people had been depicted in the now-anthemic song 'From Little Things Big Things Grow'. Kev and Paul Kelly performed the song they wrote together in a moving tribute watched across the country.
The story now continues with Recollections… Reflections… (A Journey). The four disc collection was released as a deluxe set, including a photo booklet, and on iTunes, by One Louder Recordings on 23 October 2015.
Talks, conversations and panels