Human rights activist, lawyer and conflict zone specialist, Anna Neistat has spent many years on the frontline, exposing and documenting human rights abuses in some of the world's most dangerous and secretive regimes.
Her work with Human Rights Watch was chronicled in the award-winning Netflix documentary E-Team.
Dr. Anna Neistat leads Amnesty International's global research by setting the research agenda and ensuring consistently high standards for research strategy, methodology and quality. She provides political and human rights analysis and expert advice on human rights to the International Secretariat and the movement as a whole, and represents Amnesty International in major internal and external fora.
Previously, as associate director for Program at Human Rights Watch, Anna has conducted over 60 investigations in conflict areas around the world, including Syria, Afghanistan, Pakistan, China, Zimbabwe, Nepal, Kenya, Yemen, Chechnya, Sri Lanka and Haiti. She has authored or co-authored over 40 Human Rights Watch reports as well as numerous articles and opinion pieces. Anna comments regularly in the media on violations of human rights law and humanitarian law in crisis situations. She often represents Human Rights Watch at national and international institutions, and speaks at universities, research centers, and think tanks.
Before joining Human Rights Watch, Anna worked for "Echo of Moscow," Russia's leading radio station, the Open Society Institute, and as a constitutional law researcher at the Radcliffe Institute for Advanced Studies. Neistat holds an LL.M. degree from Harvard Law School, a J.D. and Ph.D. in law, and an M.S. in history and philology. She is a member of the New York State Bar, and teaches at the Paris School of International Affairs at Sciences Po.
Talks, conversations and panels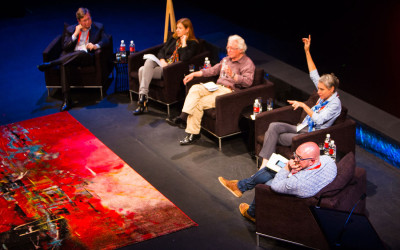 Charles Lewis, Anna Neistat, Raimond Gaita, Sarah Chayes, Scott Stephens
25 Oct 2016
Video, podcast | Anna Neistat
25 Oct 2016