Andrew Revkin
United States
Founder and Editor, Dot Earth – the award winning environmental blog for the Op-Ed section of The New York Times – Senior Fellow, Pace University.
Andrew Revkin has been writing about science and the environment for more than three decades. He has written on global warming science, solutions and energy issues since the 1980s and is among those credited with proposing that we have entered a "geological age of our own making" known increasingly as the Anthropocene.
Revkin has won the top awards in science journalism multiple times, along with a Guggenheim Fellowship. He has written acclaimed books on global warming, the changing Arctic and the violent assault on the Amazon rain forest.
In spare moments, Revkin is a performing songwriter. He was a longtime accompanist for Pete Seeger and recently released his first album of original songs. Two major films have been based on his work: Rock Star (Warner Brothers, 2001) and The Burning Season (HBO, 1994), which starred Raul Julia and won two Emmy Awards and three Golden Globes.
Follow Andrew Revkin on Twitter
Talks, conversations and panels
Podcast | Andrew Revkin
13 Oct 2015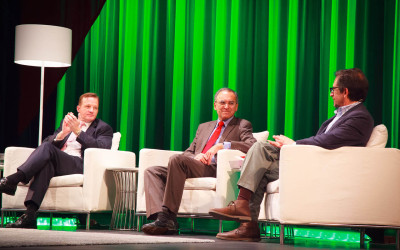 Podcast | Andrew Revkin, Pavan Sukhdev, Andrew MacLeod, Madonna King
13 Oct 2015