Senior Technology Journalist, The Australian newspaper, Sydney. Chris has enjoyed an extensive career as a working journalist, computer professional, and in earlier days, teacher of computer studies.
Chris's journalism experience includes broadcast media and print: researcher at The 7.30 Report, Brisbane; researcher at 4BH 882 talk back radio; Founding Editor, Land Rights Queensland indigenous newspaper 1995; reporter and investigative journalist at
The Sunday Mail
, Brisbane 1996-1999; Consumer Affairs Reporter, Legal Affairs Reporter, City Hall Reporter, Online Reporter and Assistant Chief of Staff at
The Courier-Mail
, Brisbane 1999-2007; Deputy News Editor online, Media Development Editor and Senior Technology Journalist at
The Australian
, Sydney 2007- now. These days he enjoys his passion for journalism and IT wrapped into one job.
He first learnt to program in the late 1960s and began studying computer science in the early 1970s at Monash University. Programming was mainly on an IBM 360/20 and CDC 3200. His main time programming however was in the mid-late 1980s when with a friend he formed a Brisbane-based firm that specialised in installing PC networks with tailored database software. This wasn't so easy to achieve in the early days of networked PCs. Microsoft DOS had no networking capabilities, so the pair used Novell software to network MSDOS across PCs. There was no public internet, so modems performed data transfers across offices.
He spent over a year rewriting body corporate accounting and community management software, converting some 130 modules written for standalone PCs, to work in a multi-user environment — across PCs and offices for the then Body Corporate Services. BCS used the software to manage 23,000 units/apartment in Cairns, the Sunshine Coast, Brisbane, Sanctuary Cove and the Gold Coast.
His work at The Australian as senior technology journalist includes weekly device reviews, fortnightly features on developments in computer technology and IT in the Life section, columns every other week, and stories for the news, business and technology sections of the paper, and for online.
Talks, conversations and panels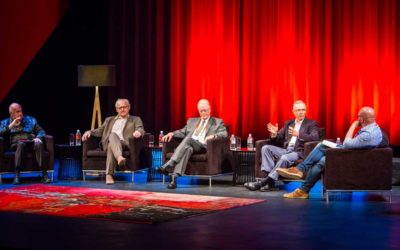 Video, podcast | Toby Walsh, David Tuffley, Phil Swinsburg, Chris Griffith, Scott Stephens
25 Oct 2016