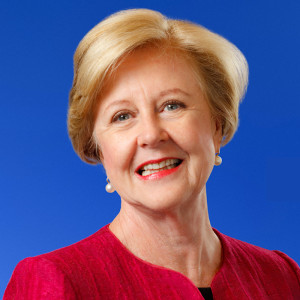 We are incredibly honoured to have Gillian Triggs joining us to discuss the concept of a world without poverty and the competing claims of privacy and transparency on Day 1 of the summit.
Emeritus Professor Gillian Triggs is currently the President of the Australian Human Rights Commission. She was Dean of the Faculty of Law and Challis Professor of International Law at the University of Sydney from 2007-12 and Director of the British Institute of International and Comparative Law from 2005-7.
She is a former Barrister and a Governor of the College of Law. Professor Triggs has combined an academic career with international commercial legal practice and has advised the Australian and other governments and international organisations on international legal and trade disputes. Her focus at the Commission is on the implementation in Australian law of the human rights treaties to which Australia is a party, and to work with nations in the Asia Pacific region on practical approaches to human rights.
Professor Triggs is the author of many books and papers on international law, including International Law, Contemporary Principles and Practices (2nd Ed, 2011).
---
Appearances
Day 1 – The Big Picture
Tuesday 13 October, Queensland Conservatorium, South Bank Brisbane

2020: A WORLD WITHOUT POVERTY
President of the Australian Human Rights Commission, Gillian Triggs and 'the meddling priest', professor of law at ACU Fr Frank Brennan, join international human rights experts Attiya Waris (Kenya) and Erna Witoelar (Indonesia) for a discussion around human rights, human security and the 'bottom billion'. Host by award-winning journalist and author Madonna King.

NOTHING TO HIDE: NOTHING TO FEAR
'Google's philosopher' Luciano Floridi (UK/Italy), 'security guru', cryptographer and best-selling author Bruce Schneier, fellow and former legal director for Privacy International, Carly Nyst (UK), prominent barrister and former-national security laws monitor Bret Walker and president of the Australian Human Rights Commission, Gillian Triggs, imagine utopian and dystopian futures in a world without privacy. They will examine competing claims of privacy and transparency, challenges balancing civil liberties and security, impact of surveillance on human rights, free speech, press freedom, democracy – and the great positive powers of shared information.
Hosted by ABC's The Drum co-host and Lateline presenter Steve Cannane.

View more information and full day 1 program here
---
Twitter: @GillianTriggs
---