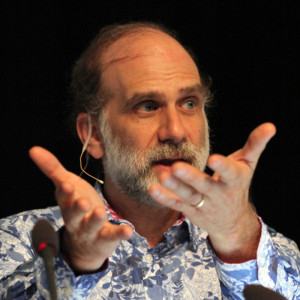 Bruce Schneier joins us via video link on Day 1 of the Global Integrity Summit to discuss the many ways in which our data is collected and utilised to control, influence and manipulate.
Bruce Schneier is an internationally renowned security technologist, called a "security guru" by The Economist. He is the author of 13 books – including Data and Goliath: The Hidden Battles to Collect Your Data and Control Your World – as well as hundreds of articles, essays, and academic papers.
His influential newsletter "Crypto-Gram" and his blog "Schneier on Security" are read by over 250,000 people. He has testified before Congress, is a frequent guest on television and radio, has served on several government committees, and is regularly quoted in the press.
Schneier is a fellow at the Berkman Center for Internet and Society at Harvard Law School, a program fellow at the New America Foundation's Open Technology Institute, a board member of the Electronic Frontier Foundation, an Advisory Board Member of the Electronic Privacy Information Center, and the Chief Technology Officer at Resilient Systems, Inc.
---
Twitter: @SchneierBlog
Facebook: www.facebook.com/bruce.schneier
---
 Click here to view the program.